Back
2021-11-16 10:02:23
AVALANCHE ECOSYSTEM OVERVIEW
---
1. Overview of Avalanche
Avalanche is an open-source smart contract platform that enables the deployment of highly decentralized applications, financial products, digital assets, and interoperable blockchains. Avalanche (AVAX) focuses on transaction speed, low costs, and eco-friendliness. Ultimately, what Avalanche hopes to deliver is a highly scalable blockchain that doesn't sacrifice decentralization or security.
2. Tokenomics
2.1 Key Metrics
Name: Avalanche.
Ticker: AVAX.
Blockchain: Avalanche.
Consensus: Proof of Stake (PoS).
Token type: Native and Utility Token.
Block time: 400ms.
Avg. Transaction Time: 4,500 TPS.
Token Standard: SPL.
Max Supply: 720,000,000 AVAX.
Current Total Supply: 391,128,419 AVAX
Circulating Supply: 220,286,577 AVAX
2.2 Token distribution
Staking Reward: 50%.

Team: 10%.

Public Sale: 10%.

Foundation: 9.26%.

Community & Developer Endowment: 7%.

Strategic Partners: 5%.

Private Sale: 3.46%.

Seed sale: 2.5%.

Airdrop: 2.5%.
2.3 AVAX Token Use Case
Fees: Any activity on Avalanche's platform will be charged in AVAX.
Staking: To become a validator in Avalanche requires a minimum of 2,000 AVAX.
3. Investor and partner
Avalanche raises $230 million from the private sale of AVAX tokens. Polychain and Three Arrows Capital are leading the investment and other investors include R/Crypto Fund, Dragonfly, CMS Holdings, Collab+Currency, and Lvna Capital.
4. Avalanche Ecosystem Overview
Source: Avaxholic
4.1 DeFi on Avalanche
Avalanche ranks 5th among the platforms with the largest TVL (total value locked). Avalanche's TVL increases 42 times from $200M to $8.57B in only 3 months.

Source: Defilama
4.1.1 Stablecoins
Avalanche is now supporting 10 different kinds of stable coins include USDT, USDC, tUSD, Frax, ELK, E-money, …
4.1.2 DEXs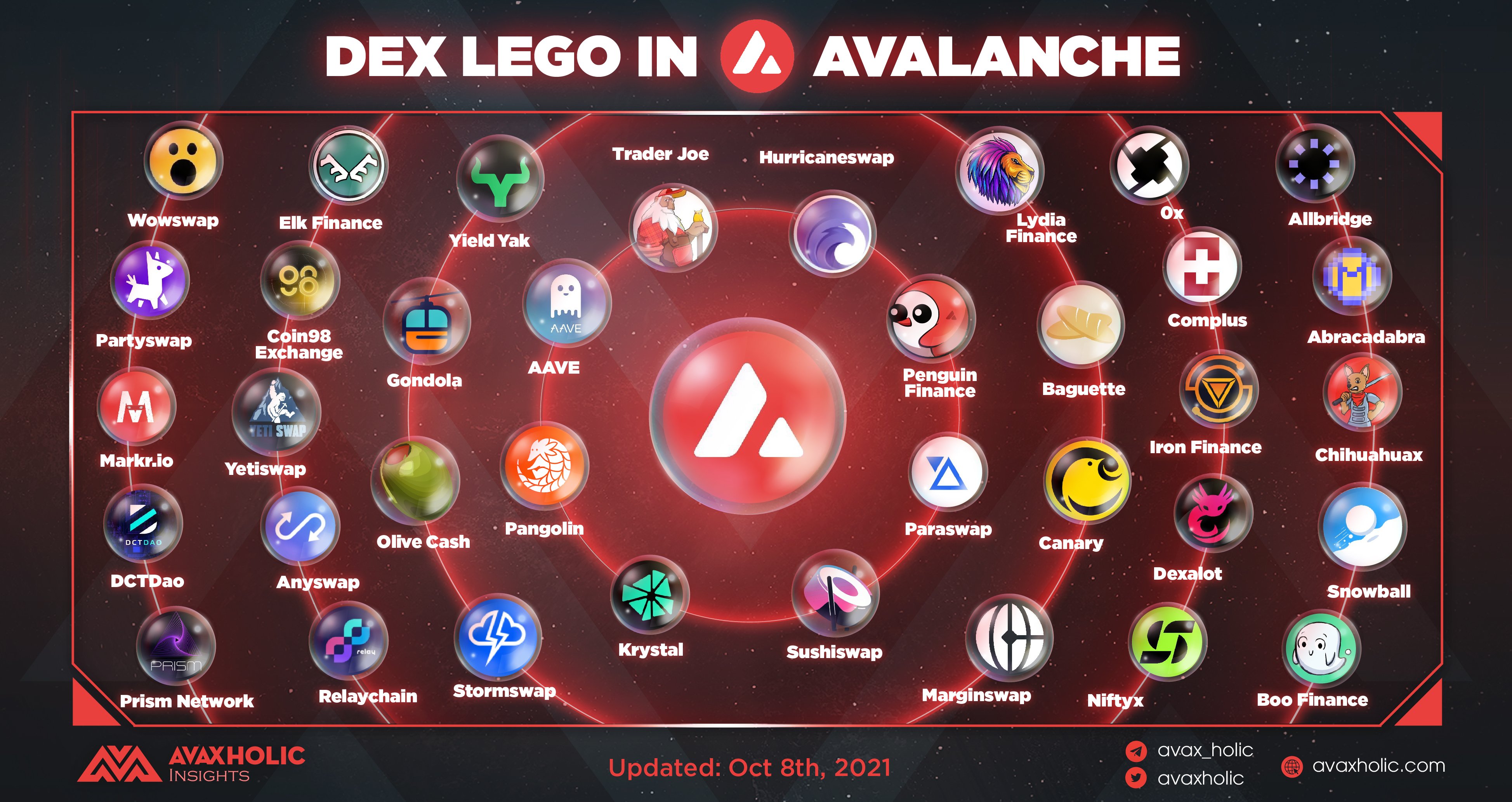 Source: Avaxholic
- AMM projects: Trader Joe, Pangolin, Penguin Finance, Sushiswap, Lydia Finance, Jellyswap, Olive.Cash ...
- AMM for stable assets: Curve Finance.
4.1.3 Lending and Borrowing
- Liquidity pool: BenQi, Aave, Trader Joe, Bzx, xDollar, Marginswap, Vee Finance
- Yield Optimizer & Yield Farming: Snowball, Beefy.
4.1.4 Wealth Management
Currently, Wealth Management on Avalanche has not developed the same as another part of DeFi, but initially, there are some projects that have announced that they are active products on the Avalanche platform like Zapper, Yield, and Quadency.
4.2 NFTs and Gaming on Avalanche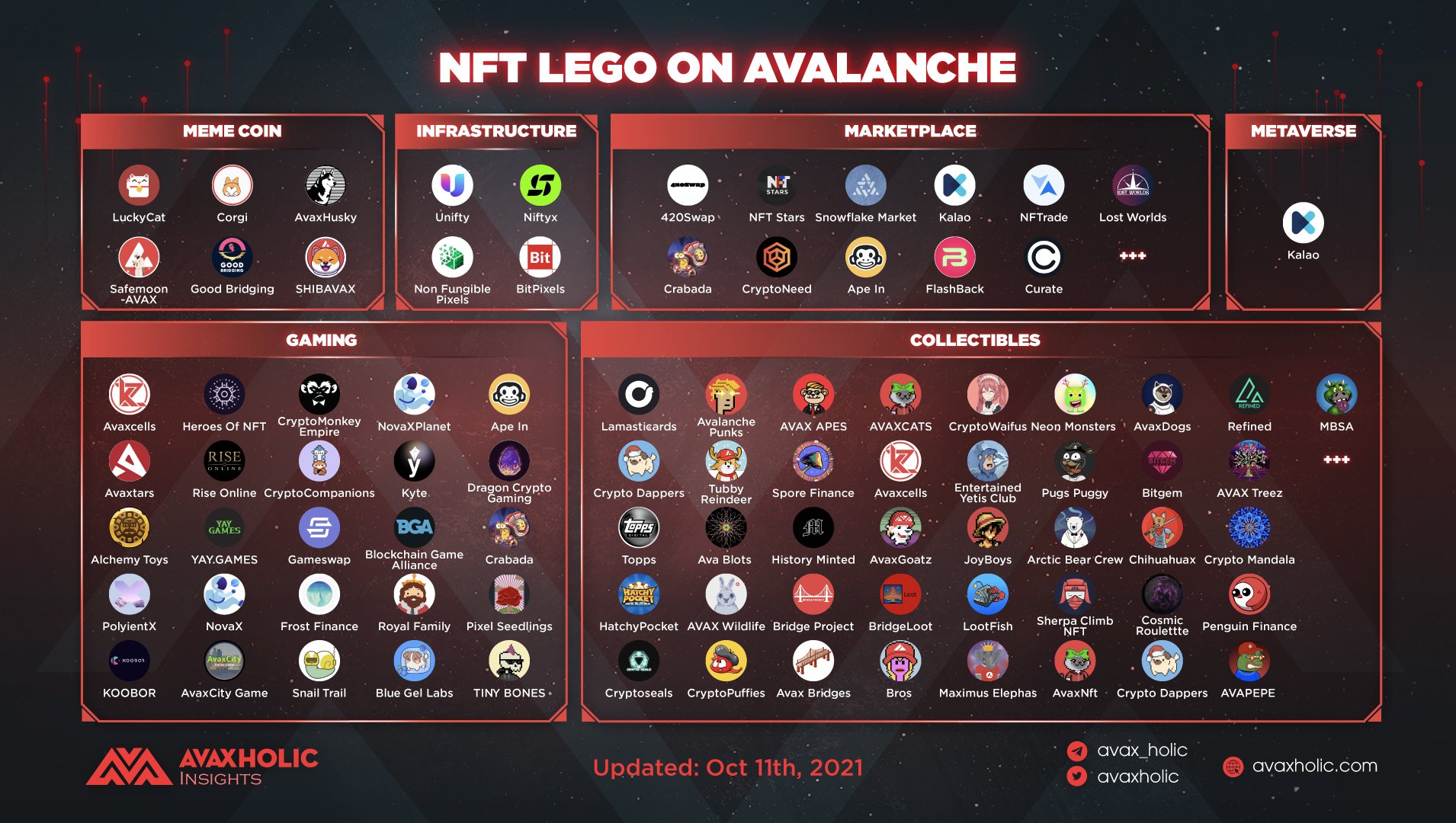 Source: Avaxholic
4.2.1 Marketplace
NFTrade, 420Swap, NFT Starts, Snowflake Market, Lost Worlds.
4.2.2 NFTs (Collections)
The most valuable projects in the field of collectibles in Avalanche include Avalanche Punks, Avax Treez, AvaPepes, Hatchy Pocket, Crypto seals.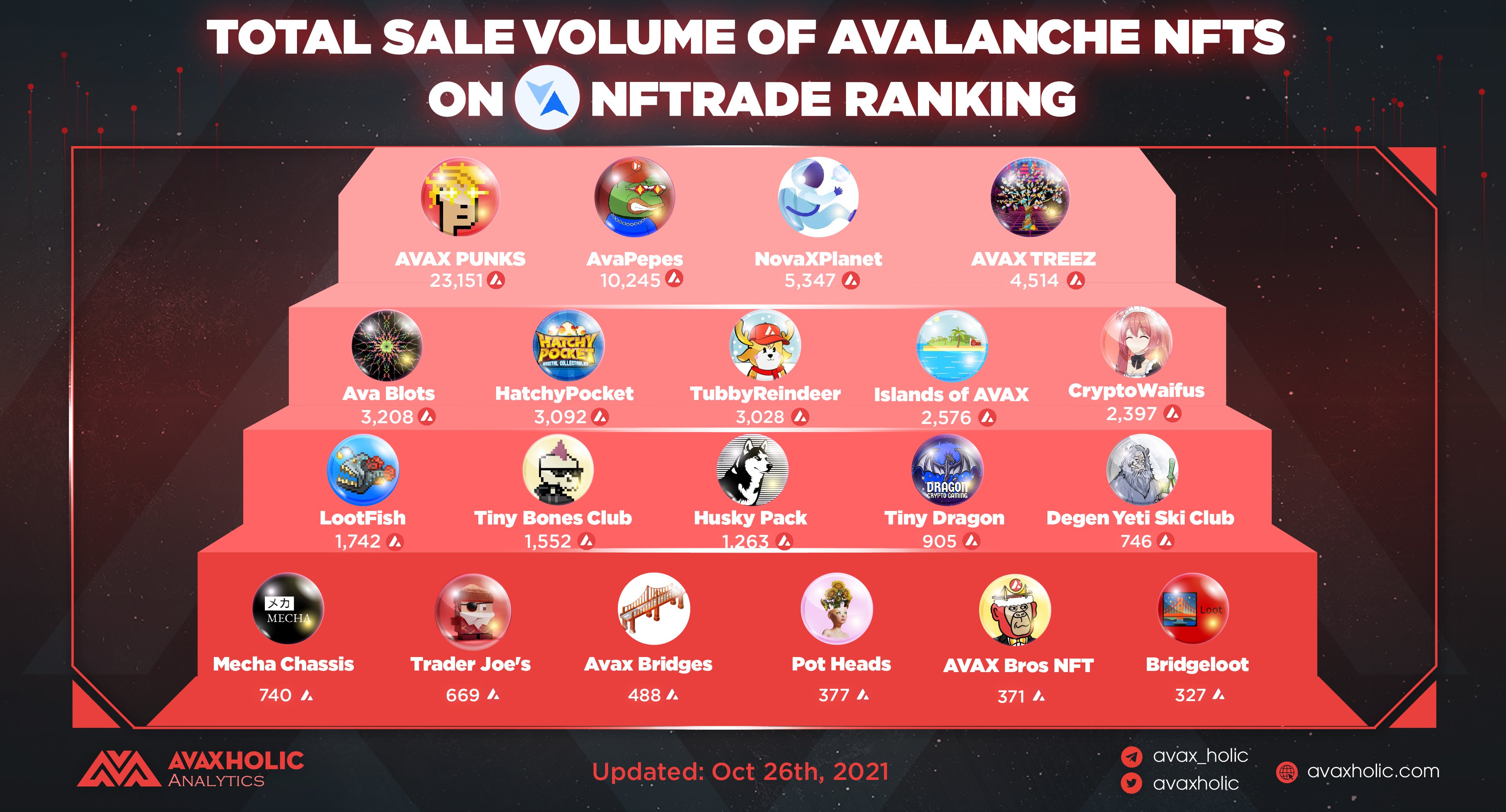 Source: Avaxholic
4.2.3 Gaming
The best quality game projects on Solana can be mentioned as KaLao, CryptoMonkey Empire, Heroes of NFTs, CryptoCompanions. Especially, KaLao is the first metaverse project built on Avalanche.
In addition, there are other Gaming projects in Avalanche announced that they are developed on Avalanche platforms like NovaXPlanet, Ape In, Dragon Crypto Gaming, AvaxCity Gaming, …
4.3 Infrastructure
4.3.1 Oracle
- ChainLink, Gravity Protocol, Cartesi.
4.3.2 Cross-chain
- Celer, Anyswap and multichain.xyz are the most used bridge on Avalance. It integrated Avalanche to provide liquidity connectivity solutions from many ecosystems such as BSC, Polygon, Solana, Etherium, Arbitrum, ...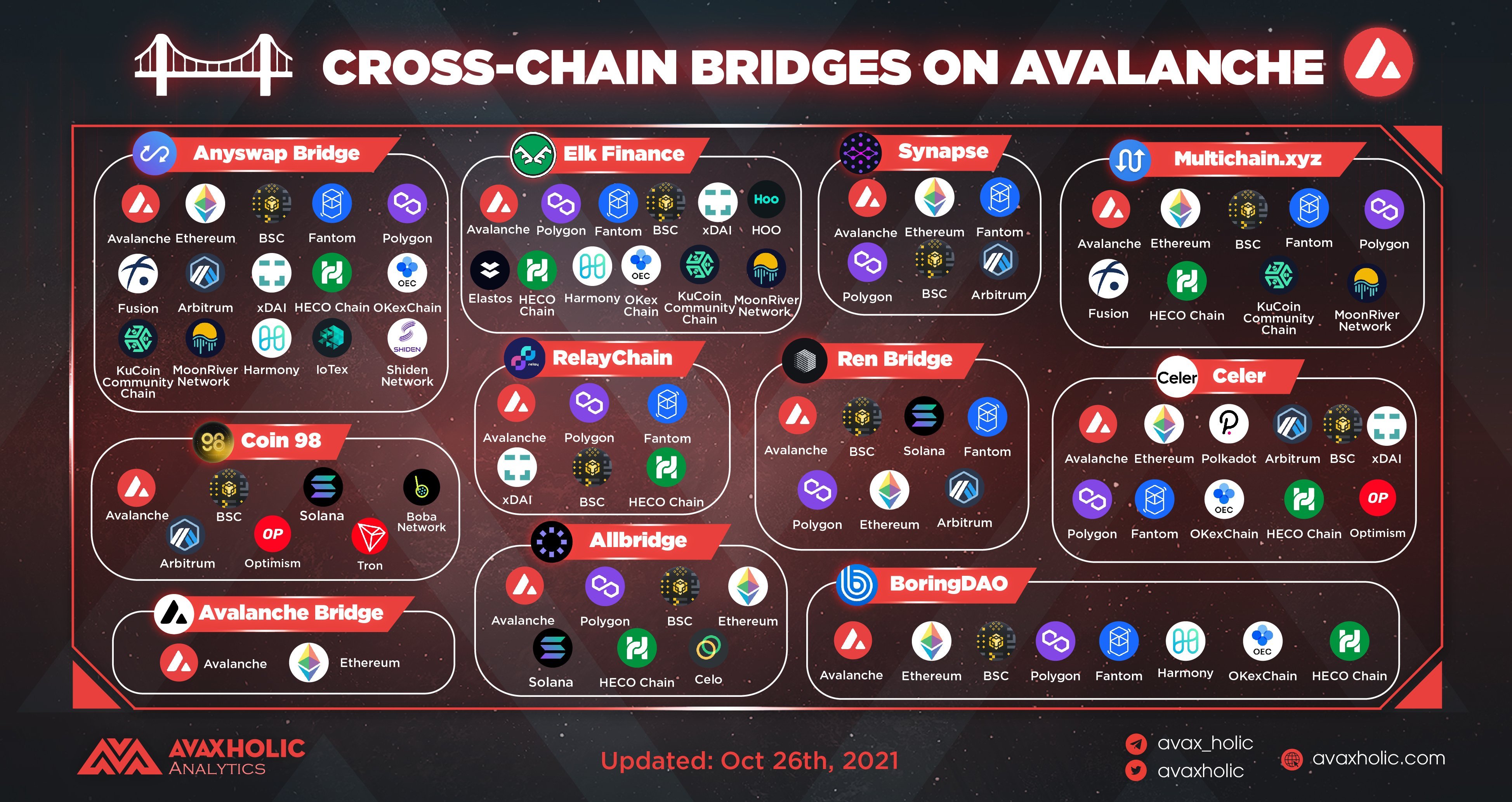 Source: Avaxholic
4.3.2 Launchpad
The IDO Platform will be one of the decisive factors in attracting cash flow in the Avalanche ecosystem include Avalaunch, Penguin Finance, Avaware, and Lydia Finance.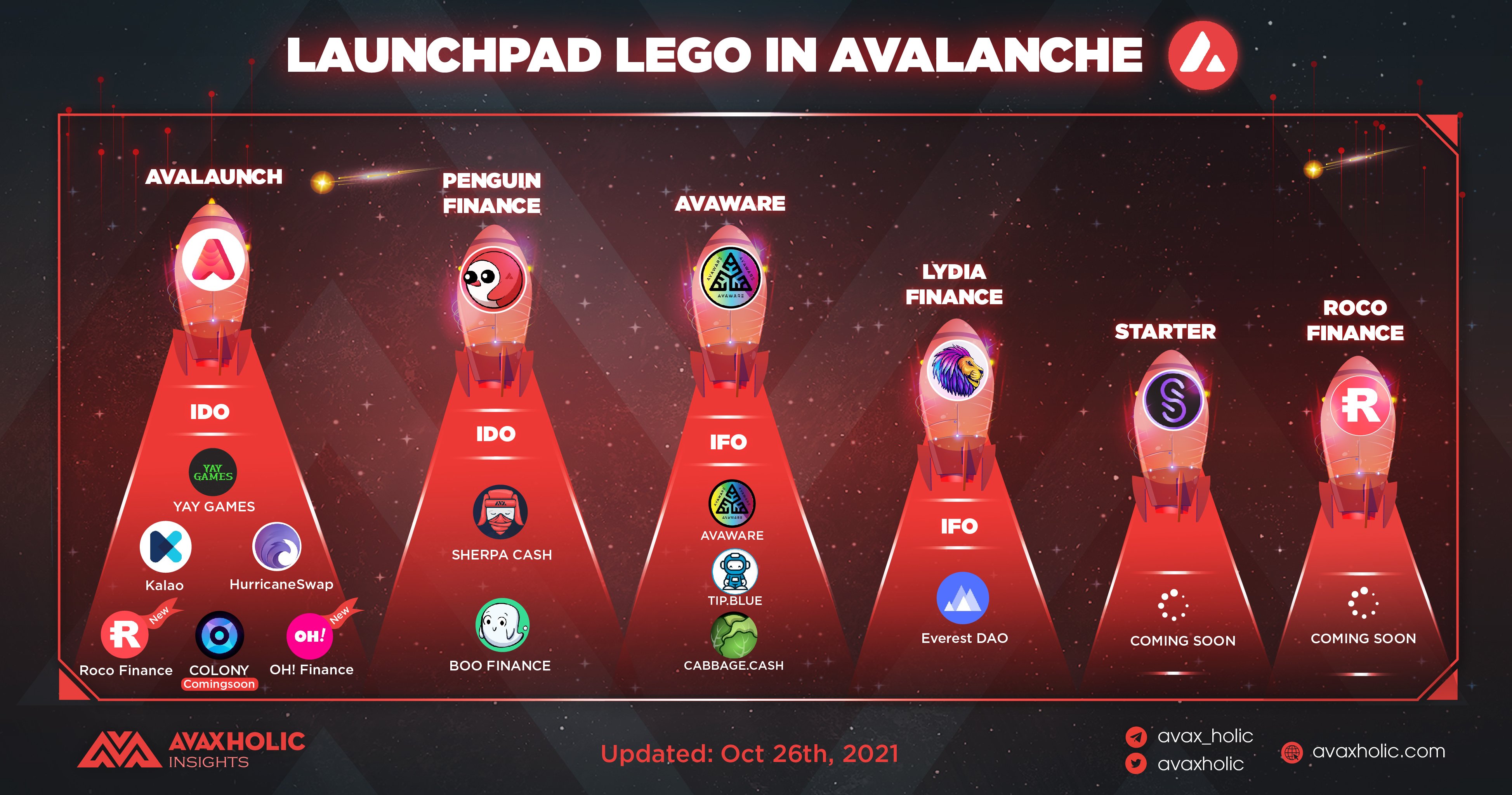 Source: Avaxholic
4.4 Wallet
A wallet is an indispensable part when participating in Crypto in general, storing and transferring assets, swapping, and adding liquidity (DeFi) is one of the basic needs of users. The current best wallet products for Avalanche systems include Neko Wallet, Metamask, Frontier, AVME, Coin98 Wallet.
Learn more about How to create and use Neko Wallet
If there are any questions, please feel free to join our community for further discussions about Crypto/Neko Wallet with our team and other members!