Back
2021-12-06 04:28:04
NEAR ECOSYSTEM OVERVIEW
---
1. Overview of NEAR
NEAR is a decentralized development platform that uses a Proof-of-Stake (PoS) consensus mechanism and Sharding mechanism. These technologies will work together to scale the network and minimize congestion. Similar to Ethereum, Solana, and Avalanche, NEAR can be described as a "layer-1" blockchain, which means it is the foundation upon which other applications are built and deployed. It is like a community-run, highly scalable, and low-cost cloud platform for developers to create decentralized applications easily.
Near able to process 100,000 transactions per second (tps) and achieves transaction finality near-instantly thanks to a 1-second block cadence. According to NEAR's technology, it can achieve transaction fees that are 10,000x lower than Ethereum — making them essentially negligible.
NEAR is now listed on top Centralized Exchanges like Binance, MEXC, Houbi, Crypto.com, OKEx, Gate.io, Bitfinex, Kucoin, …

Source: Nearians

2. Tokenomics
Key Metrics
Ticker: NEAR.
Blockchain: Near
Token type: Utility + Governance.
Token standard: https://explorer.near.org/.
Total Supply: 1,000,000,000.
Circulating Supply: 547,977,077. (update at 17/11/2021).
Token Allocation
1,000,000,000 NEAR coins will be divided according to the following ratio:
Backers: 17.6%.
Community Grants, Programs,…: 17%.
Core Contributors: 14.5%.
Early Ecosystem: 13.3%.
Operation Grants: 11.5%.
Community Sale: 10%.
Foundation Endowment: 10%.
Small Backers: 6.1%.
Token Use Case
NEAR will be used for the following purposes:
Payment of fees for transaction processing and data storage systems.

Run a validator node, staking to earn rewards.

Participate in ecosystem governance.
3. Investor/Backer
NEAR is invested by top venture capital firms such as Coinbase Ventures, Pantera, a16z, Multicoin Capital, Arrington XRP Capital, IOSG Venture, Libertus Capital,...
4. NEAR Ecosystem Overview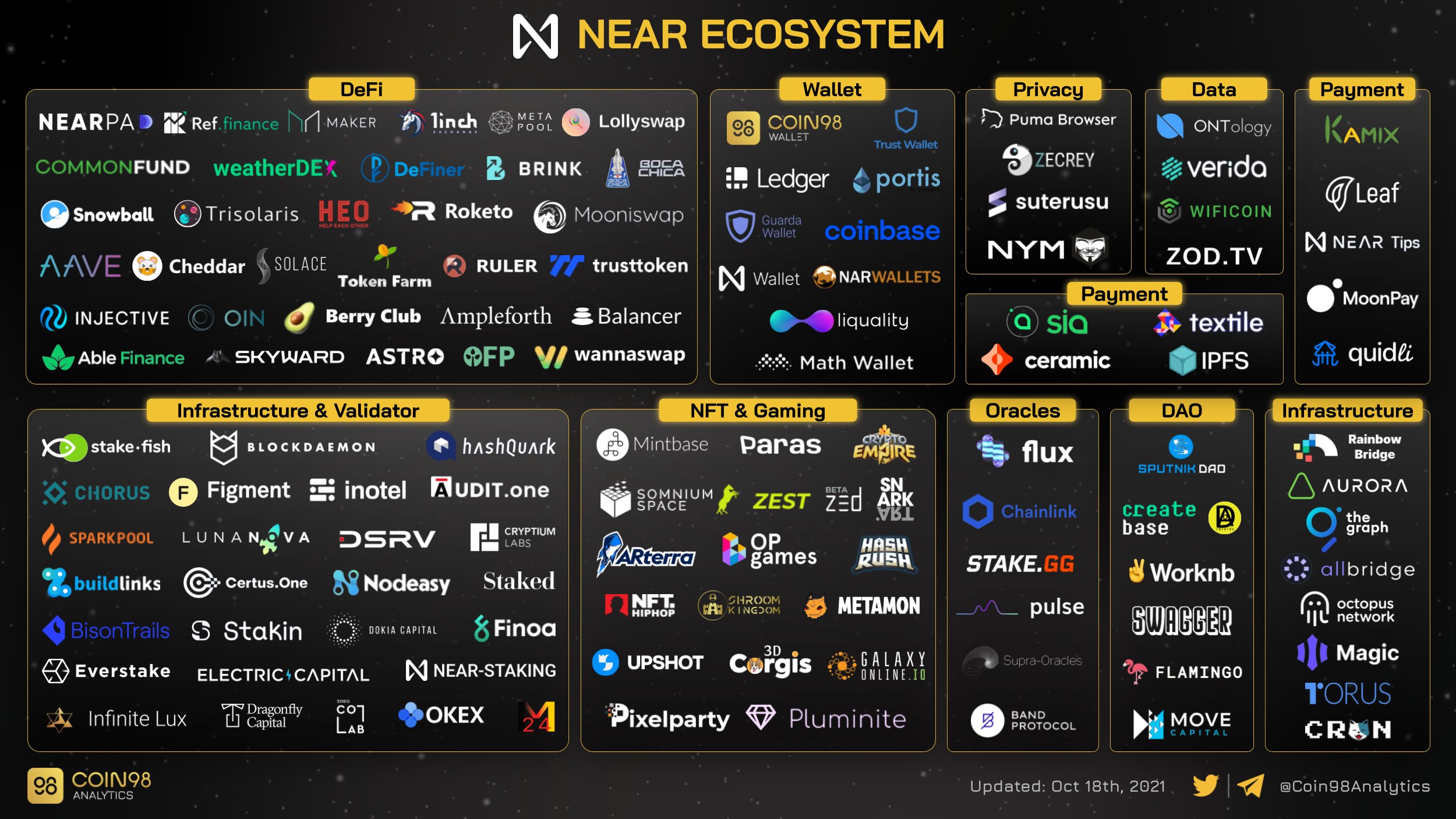 Source: Coin98 Analytics

4.1 DeFi on NEAR
Source: Nearians
4.1.1 Stablecoins
In November 2021, Oin Finance - Layer 2 Cross-chain project launched the first stable coin on NEAR which is called stUSD.
4.1.2 DEXs
Ref.finance is the first and the only AMM DEX now works on NEAR. Ref Finance has a pretty good starting TVL, Ref.finance's TVL increased 93 times in only 3 months and is currently at $92 million.
Source: Defillama
Metapool is the staking platform on NEAR which has TVL reach over 23 million USD as 2.5 million NEAR tokens staked. MetaPool will cooperate with Oin Finance to do lending on NEAR.
4.1.3 Lending and Borrowing
Oin Finance is the leading Dapp in lending and borrowing on Near.
In November 2021, Proximity Labs - a research and development firm focused on the NEAR ecosystem announced one of their products, Burrow. This is also a lending protocol that allows to mortgage NEAR, stNEAR, stETH,... to borrow stablecoins beside Oin Finance.
4.1.4 IDO Platform
There are 2 projects worked on the IDO Platform in NEAR, including NearPAD and Skyward Finance.
Skyward Finance is a fully permissionless open-sourced launchpad that allows Projects to launch their tokens without any liquidity with the best price discovery mechanism that's resistant to bots and Sybil attacks.
4.2 NFTs and Gaming on NEAR
4.2.1 NFTs Marketplace
The best quality NFTs Marketplace projects on NEAR can be mentioned as Paras and Mintbase.
Paras is an NFT marketplace that focuses on digital collectibles where artists and collectors can create, trade, and collect all kinds of art products.
4.2.2 Gaming
There is no gaming project actually now running on NEAR platform. The best quality gaming projects are developed on NEAR can be mentioned as OP Games, Metamon, Hash Rush, …
4.3 Infrastructure
4.3.1 Oracle
The oracles that will operate on NEAR include Chainlink, Band Protocol, and Flux Protocol.
4.3.2 Bridge
Rainbow Bridge of Aurora is NEAR's most outstanding Bridge project. In addition, there are other Bridge projects in NEAR: Allbridge which can bring cash flow from Solana ecosystem to NEAR.
4.3.3 Others
In addition to the above branches, we have many other pieces of infrastructure with different functions on NEAR that we should pay attention to, including Flux, Octopus network, Aurora …
4.4 Wallet
A wallet is an indispensable part when participating in Crypto in general, storing and transferring assets, swapping, and adding liquidity (DeFi) is one of the basic needs of users. The current best wallet products for NEAR systems include Near Wallet, Coinbase wallet, Trust wallet, Coin98 Wallet.
Learn more about How to create and use Neko Wallet
If there are any questions, please feel free to join our community for further discussions about Crypto/Neko Wallet with our team and other members!