Back
2021-11-16 09:13:29
WHAT ARE THE BEST HOT WALLETS YOU SHOULD USE?
---
1. Neko Wallet
Neko Wallet is a multi-chain non-custodial wallet that supports both cryptocurrencies and Non-fungible Tokens (NFTs). Neko Wallet is pre-loaded with more than 6000+ token addresses so that users don't have to manually import them. Neko integrates portfolio management features in the wallet to provide the most seamless and intuitive crypto investment process on the market. Neko Wallet is now supports Binance Smart Chain, Ethereum, and Solana networks and will continuously add new chains based on the community's needs as aiming to support all popular blockchain networks.
2. MetaMask
MetaMask is a digital wallet that allows you to manage, send, and receive Ethereum and ERC-20 tokens. You can also add the Binance Smart Chain network manually on Metamask to store and exchange BEP-20 tokens. The MetaMask wallet connects a regular browser like Google Chrome or Firefox to the Ethereum blockchain by acting as a browser extension.
MetaMask's first smartphone app, MetaMask Mobile for Android and iPhone, was released in September 2020. Users can set up new profiles or log in with their existing MetaMask accounts using the smartphone app, which has the same features as the browser-based version.
3. Coinbase Wallet
Coinbase Wallet is a bitcoin wallet that is entirely under the user's control. This implies that your wallet's private keys (which reflect bitcoin ownership) are held on your mobile device rather than on a centralized crypto exchange. A unique thing about Coinbase Wallet is that it serves as an independent entity and doesn't require you to sign up for an account on the Coinbase crypto exchange.
The Coinbase Wallet is widely regarded as one of the most secure mobile wallets available. It was created to support Ethereum and ERC20 tokens, but it has since extended to include several other cryptocurrencies, including Bitcoin. This software makes it simple to transfer, receive, and store money, even if you're new to cryptocurrency trading.
4. Trust Wallet
Trust Wallet is a decentralized open-source mobile crypto wallet that offers over 160,000 assets and blockchains and enables traders to accrue interest by staking their coins. The wallet was initially designed to only support ERC20 and ERC223 tokens, but it has subsequently been modified to include other major cryptocurrencies such as Bitcoin.
Both iOS and Android users can download the Trust Wallet app for free. Trust Wallet's user interface is basic, intuitive, and quick to download and install on your mobile devices. This has enabled the platform to reach over five million active users and secure a relationship with Binance, one of the world's biggest cryptocurrency exchanges.
5. Binance Chain Wallet
With Binance wallet, you can send or receive funds on Binance Chain, Binance Smart Chain, and Ethereum, as well as cross-chain transfers across both of Binance's blockchains, using the Binance Chain browser plugin.
The extension can also be used to authenticate and sign transactions with other Binance Chain products without exposing your private keys, which are safely stored within the extension's storage area and encrypted with your password. To enable this connection, the extension must have code to manage communications between web apps you open in tabs and the extension itself.
6. Exodus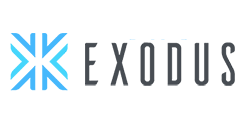 Exodus is a multi-cryptocurrency wallet with a user-friendly interface. It may be used to hold a variety of crypto assets as well as any presently unsupported and custom ERC-20 tokens.
Exodus is a free desktop and mobile crypto wallet, and also fully compatible with hardware wallets like the Trezor One and Trezor Model T. It has been well-received by many in the crypto world due to its built-in exchange and the fact that it is one of the few software wallets that supports hardware wallets.
7. Robinhood
Robinhood began as a free stock trading website, but it has now grown to incorporate Bitcoin and other cryptocurrencies. Everything is in one place with Robinhood, which offers both a wallet-type service (so users can store cash) and exchange, like Coinbase (to buy/sell currency). You can't use another wallet to withdraw or transfer coins to and from Robinhood.
Robinhood provides web and mobile trading, however, some investors may find the selection of tradable assets and account choices to be limited (the broker does not offer retirement accounts). In the recent past, Robinhood has been reprimanded for unexpected outages and trading limitations due to market volatility, as well as being fined by authorities for deceiving clients, which resulted in huge penalties.

If there are any questions, please feel free to join our community for further discussions about Crypto/Neko Wallet with our admins and other members!